Ready
to Play
DOTUN POPOOLA
DISCOVER NOW
Discover
Museums Africa
MUSEU DA MOEDA LUANDA
DISCOVER NOW
Start
Your Collection
ART & INVESTING
SHOP NOW
Latest Journal
Reading Time:
3
minutes
At the point when Gold West Africa propelled, in June 2019, a gathering to build up the West African gold economy, bringing Nigerian, provincial and global gold partners together, there was no uncertainty that it would return in 2020 for its subsequent version.
Continue reading
Reading Time:
2
minutes
Classical African Statue Art Sale Sotheby's. That Sotheby's will offer an African reliquary statue in its contemporary art evening sale in New York during the week of June 29, marking the first time a work of classical African art will be auctioned alongside masterpieces from
Continue reading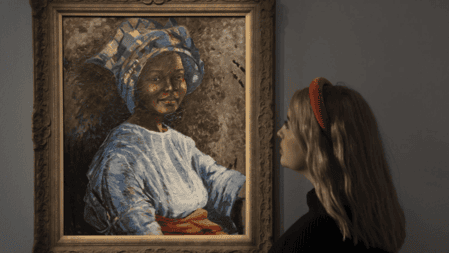 Reading Time:
2
minutes
Major London-based house Sotheby's has closed its London, Hong Kong, Dubai, Geneva, Milan, Paris and New York offices, throwing their marquee May auctions into doubt.
Continue reading
The Collector MoMAA
Buy
Subscribe to MoMAA newsletter
Be the first to know latest Art News, New Art Works & Stories
Who is the Modern African Artist?
The African Modern Artist is articulate, usually well travelled and very culturally aware. The subject matter tackled by the Contemporary African Art has shifted with the times to include current issues like the Environment, Female Empowerment and immigration to mention a few.
The African Contemporary Artist uses all current visual forms of artistic medium to convey his vision of Africa from installations, painting, sculpture photography and film.
MoMAA | African Modern Art Gallery & Lifestyle
Judging from the recent statistics from the International Auction Houses, there has been a shift in the art market towards greater artistic diversity and a surge in interest in contemporary African Art from the African Continent.
The World's oldest auction house, Sotheby's not to be left out of this new hot African Art market, currently holds an annual auction of Contemporary African Art which not only draws a high number bids from Africa itself but also is a magnet for new first time buyers who see the opportunity of investing and owning exceptionally high quality work at attainable prices.
With Record prices being fetched at the International Art Auctions on African Modern Art, MoMAA | African Modern Art Gallery & Lifestyle – becomes a vehicle to help buyers discover the world of contemporary African Art. whether it be Looking for advice on a purchase? Commissioning a Special Art Work?
MoMAA will answer your questions and guide you through your pursuit of that perfect artwork.
MoMAA | African Modern Art Gallery & Lifestyle – offers a selection of Art works with an emphasis on Emerging African Artists in a variety of styles and techniques.
MoMAA | African Modern Art Gallery & Lifestyle